Audio
Transcript
Advertiser

Need funding for your real estate investment deal? Longhorn Investments is professional, reliable, and fast!
Currently serving Texas, Tennessee, North Carolina, Missouri, Alabama, and Indiana, Longhorn Investments, LLC is a direct private lender offering short-term acquisition and renovation capital to real estate investors for both residential and commercial assets.
With Longhorn Investments, you can receive up to 75% of ARV, finance up to 100% of cost, close in 3 – 5 business days, no income requirements, a streamlined, simple approval process, and no prepayment penalty.
Formed in 2008, Longhorn Investments has funded over 4000 loans since its inception and includes complimentary businesses including a title company and real estate law practice.
Longhorn's wealth of experience puts them in the unique position of being able to help investors throughout all aspects of each transaction.
To get started today and see why Longhorn Investments is the superior lending experience, call and speak to Lawrence Hopkins at 314-749-7616.
That's 314-749-7616 or visit Longhorn Investments at LonghornInvestments.com.
Longhorn Investments
Hard Money Lending Simplified
News Reports
Real Estate Market Blaze Losing Oxygen
With the housing market still at quite a blaze, the numbers are beginning to show that oxygen levels to keep the fires at peak points are on the decline.
Quoting Candace Jackson of the New York Times, "The pandemic created a frenzied real estate market in much of the United States that has yet to let up, with demand for housing still outpacing the number of homes coming on the market, giving sellers a heavy upper hand in most of the country. But economists say the market cooled off a bit in July — perhaps a sign that the wild price appreciations of the past year may have scared off some buyers who prefer to wait until things calm down, to stay put or to continue renting.
Nationally, U.S. median home prices held steady from June to July at $385,000. That's up 10.3 percent from last year at this time, according to the latest data from Realtor.com. It's slower growth than the 12.7 percent increase in June 2021, and it marks the third month in a row in which the year-over-year gains have slowed.
Patton Drewett, a real estate agent with Compass in Austin, said homes under $1 million were the most in demand in his area, with the price surge partly driven by buyers moving to Austin after cashing out of pricier cities like San Francisco, Los Angeles and New York. "I'm having to put five to ten offers out on homes to get something into contract," he said. One client recently put a $975,000 offer on a home listed for $800,000. They didn't get the house. "It certainly feels like the Wild West in terms of what people are willing to pay."
Mr. Drewett said he saw things cool off in July, with homes getting between two and ten offers — down from the 30 to 40 offers a home might have gotten in the spring. But in the last two weeks or so buyers have returned from vacations and are once again shopping for homes, he added.
Nationally, the average home took 38 days to sell in July, up slightly from 37 days a year ago, according to Realtor.com, another sign of things slowing down a bit.
See links to this article in its entirety in the news notes.
Big Investment Funds Grab Up More Inventory
At this stage, it seems that large real estate investment firms are unrelenting in buying up any chances of mom and pop investors to grow.
Quoting Bloomberg via Crain's Chicago Business, "A real estate investment trust sponsored by Jones Lang LaSalle Inc. is taking a stake in a $1.2 billion portfolio of more than 4,000 rental homes, the latest sign of soaring interest in a hot corner of the U.S. real estate market.
The roughly $560 million investment will give JLL Income Property Trust a 47% interest in the properties, which are in major markets including Atlanta, Dallas and Phoenix, according to a statement Wednesday. The portfolio was assembled and is managed by home-rental company Amherst Residential.
It's the first investment in the single-family rental market for the REIT, which also owns apartment complexes, industrial buildings, offices and grocery-anchored retail properties.
"We think there's going to be continued institutional capital flowing into this sector," Allan Swaringen, chief executive officer of JLL Income Property Trust, said in an interview. "Getting ahead of capital is always an attractive thing."
Demand for suburban housing has surged during the COVID-19 pandemic, with Americans who can't afford down payments looking to rental homes with backyards and extra space. That's led to rising rents and increased interest by private equity firms and other large investors.
The homes in the portfolio JLL Income Property Trust is investing in are more than 96% leased, according to the statement. The transaction includes $205 million of equity and the assumption of a portion of the financing already in place on the properties."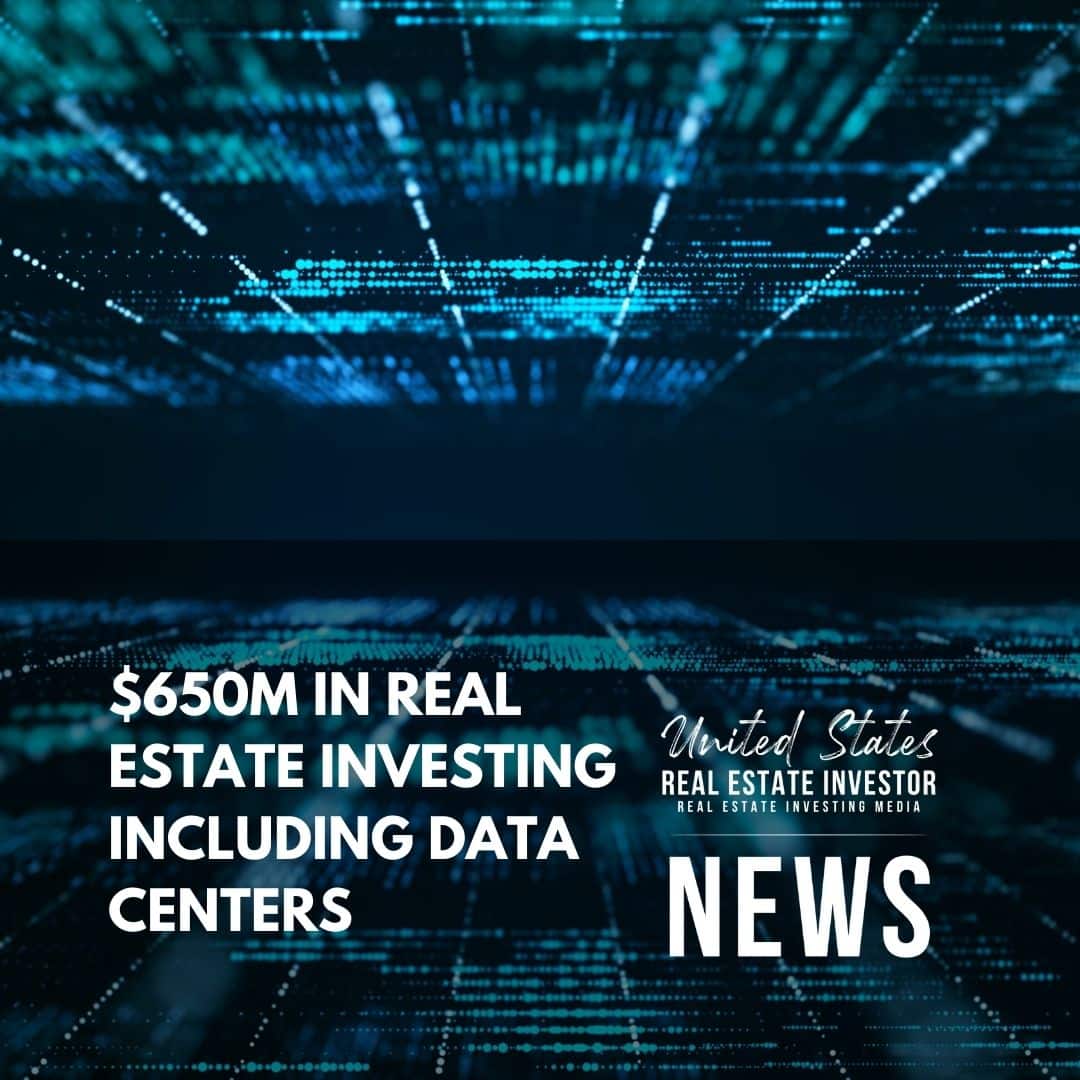 $650M In Real Estate Investing Including Data Centers
Lately, the big real estate investment firms are gobbling up everything from industrial, multifamily, and even data centers.
Quoting Gillian Tan of Bloomberg via Data Center Knowledge, "Real estate investment firm Hines has raised $650 million for a new fund dedicated to snapping up properties within the U.S.
Including a $100 million commitment from Hines, the open-ended, or perpetual, vehicle is projected to amass $1 billion by Sept. 30 with a goal of collecting about $1 billion per year in fresh capital in coming years, said Alfonso Munk, the firm's chief investment officer in the Americas. The fund plans to supplement equity bets with leverage of roughly 40% to deliver so-called "core-plus" annual returns of 9% to 11%, after fees, he added.
The fund, known as Hines U.S. Property Partners, will initially focus on multifamily, industrial and other property types, said Adriana de Alcantara, its manager. Multifamily real estate, viewed as a "necessity" by Hines, offers growth in markets with favorable demographic trends, while industrial real estate — or warehouses — have significant tailwinds due to increased e-commerce penetration and the scarcity of land near large cities, she said. The new vehicle's first purchase is expected to be a multifamily property in Austin, Texas, for more than $100 million, de Alcantara added.
"We also like niche sectors such as life sciences, data centers and self-storage," she said, citing their strong performance through the pandemic. Within residential real estate, Hines is also exploring bets on student and senior housing. Unlike many other real estate investment firms, Hines manages its properties, which helps generate additional returns, Munk said.
"We also add value by modernizing and upgrading buildings to improve rents as opposed to buying something that is fully-leased and perfect," he said, crediting Hines's team of engineers and architects who facilitate renovations and installations of amenities.
Hines is seeking opportunities in sub-markets within cities such as Seattle, Atlanta, Denver, Los Angeles and Dallas, Munk said. Its newest fund was backed by public pensions, insurance companies, family offices and non-profits.
The Houston-based, privately owned firm was founded by the late Gerald Hines and has $81.7 billion in assets under management.
Hines's capital raise comes amid a broader effort by real estate investment managers to tap institutional investors. As of June 30, a record 1,240 real estate funds were seeking to raise an aggregate $360 billion, according to data provider Preqin."
Quick Content Suggestions
News Notes
Overheated Real Estate Market Begins To Cool
https://www.nytimes.com/2021/08/13/realestate/real-estate-prices.html
JLL Reit Buys Into $1.2 Billion Rental Portfolio
https://www.chicagobusiness.com/commercial-real-estate/jll-reit-buys-12-billion-rental-portfolio
Texas Firm Hines Raises $650M for US Property Bets, Including Data Centers
https://www.datacenterknowledge.com/investing/texas-firm-hines-raises-650m-us-property-bets-including-data-centers
Audio mastered by Universe Media Mastering
https://universemediamastering.com/