Audio
Transcript
Advertiser

Need funding for your real estate investment deal? Longhorn Investments is professional, reliable, and fast!
Currently serving Texas, Tennessee, North Carolina, Missouri, Alabama, and Indiana, Longhorn Investments, LLC is a direct private lender offering short-term acquisition and renovation capital to real estate investors for both residential and commercial assets.
With Longhorn Investments, you can receive up to 75% of ARV, finance up to 100% of cost, close in 3 – 5 business days, no income requirements, a streamlined, simple approval process, and no prepayment penalty.
Formed in 2008, Longhorn Investments has funded over 4000 loans since its inception and includes complimentary businesses including a title company and real estate law practice.
Longhorn's wealth of experience puts them in the unique position of being able to help investors throughout all aspects of each transaction.
To get started today and see why Longhorn Investments is the superior lending experience, call and speak to Lawrence Hopkins at 314-749-7616.
That's 314-749-7616 or visit Longhorn Investments at LonghornInvestments.com.
Longhorn Investments
Hard Money Lending Simplified
News Reports
Overseas Investors Sights Set On US Real Estate Markets
If you haven't noticed, the world is growing smaller and smaller everyday with the United States real estate industry being no exception. Since the implementation of pandemic travel restrictions, real estate investors from abroad have been chomping at the bit to move forward with snatching up more US properties.
Quoting vice president at Los Angeles-based Dekel Capital, Benjamin Grosberg of Commercial Observer, "Earlier this year, I made the trip across the Pacific Ocean to Australia to meet with local Asian-Pacific investors and funds. This included a range of private and institutional investors — some of whom already have an allocation towards United States real estate, and many who have yet to invest, but are actively looking for the right group to partner with.
We were able to identify some common underlying investment themes that favor a general increase in cross-border allocation towards U.S. real estate. The responses from our investors mirrored the results from a survey released in May 2021 by the Association of Foreign Investors in Real Estate (AFIRE), in which 60 percent of responding investors noted that they intend to increase their investment volume in U.S. CRE this year. Interestingly, investors from the AFIRE survey expect the greatest increase in net capital flows into the U.S. over the next three to five years to originate from Asia-Pacific (a 71 percent increase).
Long drawn to trophy assets in core markets, like New York skyscrapers and high-profile shopping malls, international investors are starting to notice other growth markets and asset classes within the U.S. Our overseas investors have started to express interest in projects that they previously may have overlooked because of the relatively unknown markets in which they were located.
Other than those with the ability to hedge their U.S. dollar (USD) exposure, most of our overseas capital sources are concerned about how an unfavorable exchange rate shift can seriously eat into the gains made on U.S. investments.
Since the start of 2021, however, the USD has fallen against most major global currencies. This is due to several reasons, most notably, record-low bond rates in the U.S. While we don't profess to know what will happen in the future, the current drop in the USD does provide extra incentive for overseas investors to enter the U.S. market.
Our international investors are also starting to take notice of macroeconomic themes occurring in the U.S. housing market, most notably, the current lack of supply. This is, in part, due to general news coverage, but also the exposure they receive from wealth management banks acting as conduits for large local funds like Blackstone and Oaktree Capital Management. These investors, however, are big enough to invest on their own, and prefer to take advantage of the current macro themes without having to be tied down to these funds.
Many of these investors have voiced their concerns about having their returns watered down by excess performance and management fees.
In the context of the pandemic, it has been challenging for many of our cross-border investors to enter into new deals, simply because of their inability to get on a plane and see the project due to travel restrictions. As a result, we are seeing a level of pent-up demand from these international investors, and at the moment, we are laying the groundwork for when the world opens up, hopefully sooner than later."
See links to this full report in the news notes.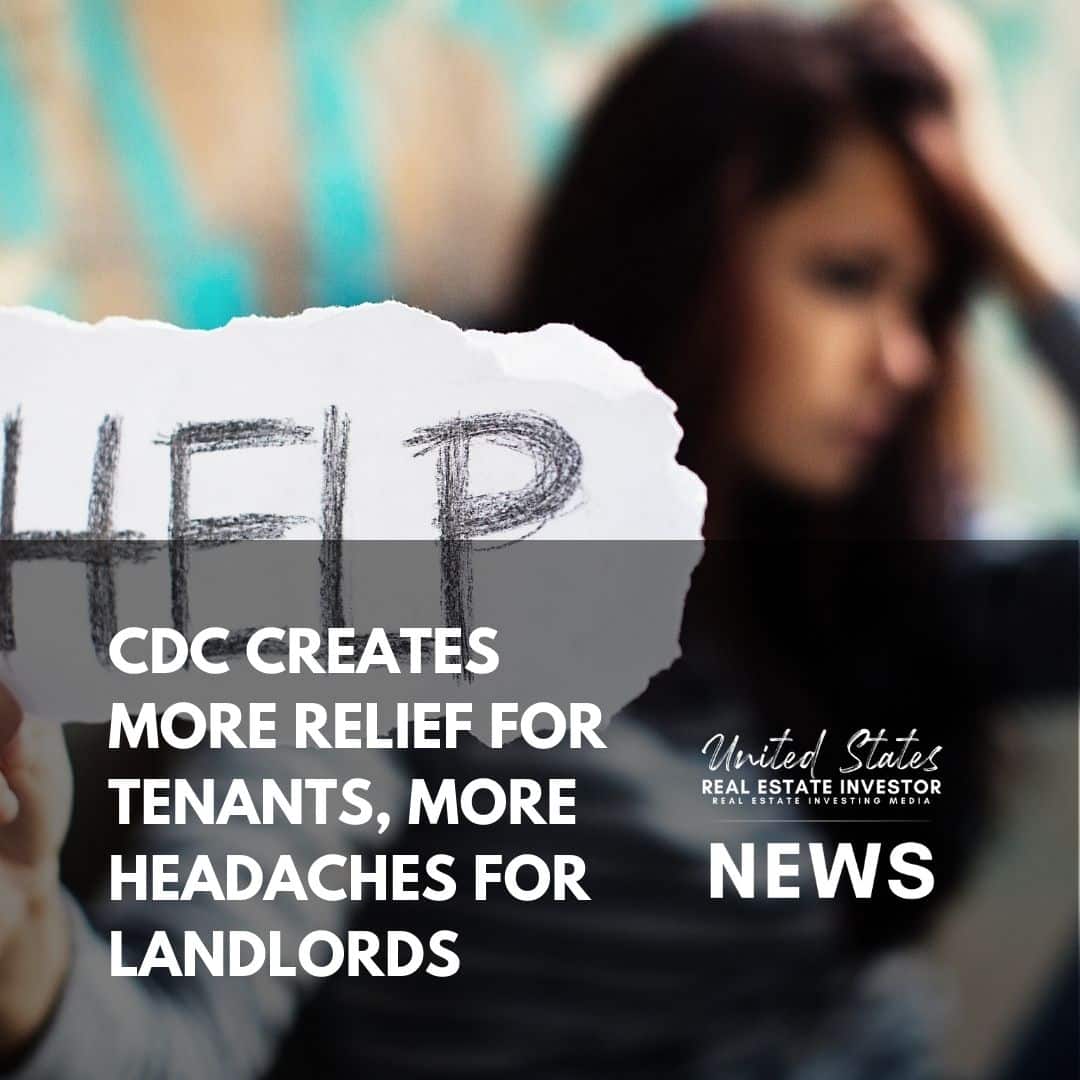 CDC Creates More Relief For Tenants, More Headaches For Landlords
As even more COVID-19 infections ramp upward due to the highly infectious Delta variant, the CDC has extended it's eviction moratorium to October 3, 2021 which is leaving some landlords feeling more frustrated and taken advantage of.
Quoting Josh Boak and Lisa Mascaro of the Associated Press via The Philadelphia Inquirer, "The Centers for Disease Control and Prevention issued a new eviction moratorium that would last until October 3, as the Biden administration sought to quell intensifying criticism from progressives that it was allowing vulnerable renters to lose their homes during a pandemic.
The ban announced Tuesday could help keep millions in their homes as the coronavirus' delta variant has spread and states have been slow to release federal rental aid. It would temporarily halt evictions in counties with "substantial and high levels" of virus transmissions and would cover areas where 90% of the U.S. population lives.
The announcement was a reversal for the Biden administration, which allowed an earlier moratorium to lapse over the weekend after saying a Supreme Court ruling prevented an extension. That ripped open a dramatic split between the White House and progressive Democrats who insisted the administration do more to prevent some 3.6 million Americans from losing their homes during the COVID-19 crisis.
Speaking at the White House on Tuesday, Biden said he pushed the CDC to again consider its options. But he still seemed hesitant as to whether the new moratorium could withstand lawsuits about its constitutionality, saying he has sought the opinions of experts as to whether the Supreme Court would approve the measure.
Administration officials had previously said a Supreme Court ruling stopped them from setting up a new moratorium without congressional backing. When the court allowed the eviction ban to remain in place through the end of July by a 5-4 vote, one justice in the majority, Brett Kavanaugh, wrote that Congress would have to act to extend it further.
But on Tuesday, the CDC cited the slow pace of state and local governments disbursing housing aid as justification for the new moratorium.
Aside from the moratorium, Biden has insisted that federal money is available — some $47 billion previously approved during the pandemic — that needs to get out the door to help renters and landlords.
National Apartment Association president and CEO Bob Pinnegar said the organization "has always held the same position — the eviction moratorium is an unfunded government mandate that forces housing providers to deliver a costly service without compensation and saddles renters with insurmountable debt."
Democratic lawmakers said they were caught by surprise by Biden's initial decision to end the moratorium even though the CDC indicated in late June that it probably wouldn't extend the eviction ban beyond the end of July.
Rep. Maxine Waters, the powerful chair of the Financial Services Committee, has been talking privately for days with Yellen and urged the treasury secretary to use her influence to prod states to push the money out the door. But Waters also called on the CDC to act on its own.
After the CDC's announcement Tuesday, Waters released a statement thanking Biden "for listening and for encouraging the CDC to act! This extension of the moratorium is the lifeline that millions of families have been waiting for."
See links to this very in-depth report in the news notes.
New Tech Aims To Make Anyone A Real Estate Investor
New tech startup Rhove moves forward to turn renters into owners by simply using their mobile devices.
Quoting Brent Warren of Columbus Underground, "Startups like Robinhood and Tradestation have become big – and sometimes controversial – players in the financial world by offering commission-free stock trading that is accessible to just about anyone willing to download an app.
Calvin Cooper, cofounder and CEO of the Columbus-based startup Rhove, thinks that the same kind of thing should be happening in real estate.
"Financial populism is happening in other markets – like crypto and public equities – and those are a lot less relatable to the average person than real estate," he says. "People understand the value of owning real estate…we just need to lower the barrier to entry."
His company has been focused on that goal for the last two years, starting with a rewards program for renters at the Gravity development in Franklinton that eventually was expanded to other properties. Then, last summer, Gravity residents were offered an ownership stake in the building through a program Rhove called Rentership.
(Brett Kaufman, the founder and CEO of Gravity developer Kaufman Development, is a cofounder of Rhove).
Cooper describes that program as the proof of concept for the company's latest initiative – Rhove Invest, an app that allows users to browse through and select projects to invest in around the country, with none of the account minimums or income requirements that are the norm in real estate investment (an income of more than $200,000 a year or a net worth of over a million dollars is required to be certified as an "accredited investor").
The app can be downloaded now, but users won't be able to actually make investments until the official launch, which Cooper says is on track to happen before the end of the year. Once the platform goes live, investors can choose between what promises to be a pretty wide range of projects – currently listed on the app, for instance, are several major new apartment complexes in Colorado, a co-living project in South Carolina, and the Third Way Cafe in Columbus.
Cooper's background is in finance and venture capital, but he insists that it was his experience as a renter that most influenced his path with Rhove.
"I wanted this product for myself, to own a piece of the building I lived in," he says. "Just because I was a renter, that didn't mean I shouldn't be able to take part in the value created in our cities."
"Until now, people have had to watch cranes go up all across our cities and can't participate in the value…real estate ownership is getting further out of reach, [and] millennials have zero dollars in net real estate wealth," he adds. "Just walk around Downtown, it doesn't take a rocket scientist to know where money's being made, it just takes a millionaire."
Cooper is bullish on the Columbus economy and its potential for growth, sharing that he thinks the region will actually exceed the widely-cited estimate from the Insight2050 initiative and end up adding more than a million people before 2050.
"What that means for real estate prices is, they increase every time there's economic growth in a city. I'm a firm believer that the housing crisis that follows economic growth is a self-inflicted role; we need to be embracing the YIMBY ethos," he says, referring to the "Yes in My Backyard" movement, which pushes for more housing everywhere, but especially in existing neighborhoods. "More housing for more people – we should not artificially restrict ourselves from solving the housing crisis because people are afraid of change."
Cooper thinks that the new Rhove app can help build the YIMBY coalition, by giving neighborhood residents who aren't homeowners a direct stake in local projects. He also thinks that it can help with what he acknowledges are valid concerns about equity, both by bringing more people into what is now an exclusive world, and by spreading around the benefits when the price of real estate increases in urban neighborhoods.
It remains to be seen how much of an impact the new platform will have, and if the reality of crowd-sourced real estate investing will live up to the lofty rhetoric. Cooper, though, says interest in the platform – from both real estate developers and potential investors – has been strong, and he does not back down from making bold claims about how it will disrupt the real estate industry, both in Columbus and all over the country.
"The missing component of the YIMBY movement is ownership," he says. "Imagine if YIMBYs succeed and meet the demand, and we have multifamily and single family housing at every price point to meet everybody's needs; you'd still have a scenario where most people don't own anything, and we can solve that problem."
Quick Content Suggestions
News Notes
US Real Estate Investment Still Ripe In International Investors' Minds
https://commercialobserver.com/2021/08/dekel-capital-foreign-international-real-estate-investment/
CDC Issues New Eviction Ban For Most Of U.S. Through Oct. 3
https://www.inquirer.com/health/coronavirus/coronavirus-covid-19-eviction-moratorium-biden-20210803.html
Local Tech Founder Wants To Bring Real Estate Investment To Everyday People
https://www.columbusunderground.com/local-tech-founder-wants-to-bring-real-estate-investment-to-everyday-people-bw1/